I stumbled upon Turks and Caicos when looking for inexpensive flights from NYC. I used the Skyscanner everywhere feature, which y'all know I love for moments like this. I was looking for a long weekend trip to escape the cold after the New Year. You can often find direct flights round trip for less than $300. I've seen quite a few deals on Scott's Cheap Flights and The Flight Deal. All of my tips for finding flight are in this earlier post if you want more info on finding flight deals.
After visiting Turks and Caicos for the first time earlier this month, I wonder why I waited so long to visit! Just a few hours outside of NYC, it's pefect for a long weekend. Turks and Caicos is a group of 40 islands located just above the Dominican Republic and Haiti just to the right of Cuba. Only 8 of the islands are inhabited, which is pretty wild to think about. We were on Providenciales, also known locally as Provo, which is one of the larger islands. Provo was a unique mix of modern comforts, beautiful beaches, and local culture. Grand Turk is where a lot of the cruise ships stop so if you've been on a cruise, it's likely you haven't actually been to Provo.
Where to Stay: Hotels can get expensive, so look to Airbnb or VRBO for more affordable options. I really wanted to make this trip affordable so we stayed on this yacht for the majority of our trip. When we went, this ended up being about $100/ per person per night with taxes and fees for the three of us. This also included breakfast, which was a huge plus for us. We booked on Airbnb, and if you've never used it before, you can sign up here. The hosts Karen and Rod were amazing, so sweet and super helpful. Karen was amazing durng the pre-planning of the trip and she was also super helpful with things to do on the island and even a few car rides to help us out when our taxi was delayed.
To end the trip, we decided to stay at a beachside property called Grace Bay Club. I had looked up the property while searching for accomodations, and it wasn't cheap, but there were lots of rave reviews. The overall stay was great, our room was nice, the property is stunning, and overall, people were accomodating. Our challenge the last day was with the restaurant team questioning our presence on property insinuating that we may not be guests. While this challenge left me feeling a little unsure about recommending the property to other young people of color (as we didn't see this happening to other guests), the team assured me this was a major exception with one rude staff member and not the rule. I will say the majority of the restaurant team did their best to turn things around which was much appreciated, but we never did get any sort of apology from the one individual who caused the challenge. The property is beautiful with several pools, great dining options including their famous Infinity Bar, as well as a full gym. They're eco-friendly with no plastic water bottles on property and a refillable bottle you get on arrival plus a few local snacks. If you're looking to splurge, it's definitely a property to consider and I offer my experience just to be fully transparent.
As an alternative to Grace Bay Club, we were also considering COMO Parrot Cay which has amazing reviews and looked beautiful as well.
Where to Eat & Drink: Eating out can get expensive, so we planned our meals to have just one main meal per day. We went to the supermarket and they had ALL of the things surprisingly, but it was definitely a bit more expensive than in the states. Perfect if you've got dietary restrictions though and are staying in a vacation rental property. These all vary in price but lots of options to explore!
Da Conch Shack (@daconchshack): We went for dinner about an hour before close, which was a bit more quiet than the daytime. This is a beachside restaurant, so it's super fun to go while it's light out so you can walk around and explore. The menu is online so you can take a look at all the options. The jhonny fries and conch fritters were phenominal. Honestly, loved their appetizers more than the full meal, so if we wen't back we'd probably just share a ton of apps.

Fresh Catch: We went after a long afternoon of Kayaking, and they were out of a lot of things, so the earlier you come, the better– but we waited, and it was so worth it. Definitely one of the most expensive restaurants we went to, so keep that in mind if you're trying to save. The chicken wings and jerk chicken tostones were so good to start. I'm a fish lover and fresh fish on the island is great. Here, I got the pan seared grouper and it was so yummy.

Kin Khao: Since this is a more local lowkey restaurant, there are no extra taxes added which saves you a lot. This was a great inexpensive option recommneded to us by our Airbnb hosts for solid thai food with good portions and flavor. The entrees were like $12 each and everything was so good. We met the owner at the end and she explained that she and her family came from Thailand, so everything is traditional and she really cooks with love.

Mango Reef: This is where we went on the first night. Hindsight is 20/20, and the food was honestly just ok. The ambiance was amazing though so I'd recommend going for happy hour. The drinks are pretty and strong– plus, super well-priced if you catch the happy hour special. Be careful with the lit radioactive, they'll tell you if you try to order it, but that thing is STRONG.

Lemon 2 Go (@lemon2gocoffee): We found this place before Yoga and came back the following day because it was so perfect. Great for coffee, and they had tons of alternative milk options plus Vital Proteins collagen which I love. Solid options for light bites and healthy snacks as well.

$5 Bar: We discovered this on the last night in the downtown area, and it's where the locals go to grab an inexpensive but good drink before heading out for the night. All of the drinks are $5 and they have hookah plus a few games if you're into that. Super cute but it gets busy on the weekends, so glad we went on a monday night which was definitely off peak.
What to Do: There's so much to do on the island. Here are just a few things we did or looked into. In terms of getting around, we took the Conch Cab, and it's usually the cheapest option, but since it's super new and they've just got two cars plus a few drivers sometimes there can be a 10-15 min wait.
The Best Beaches: There are so many on the island and when we went the water was clear and super calm, which was lovely.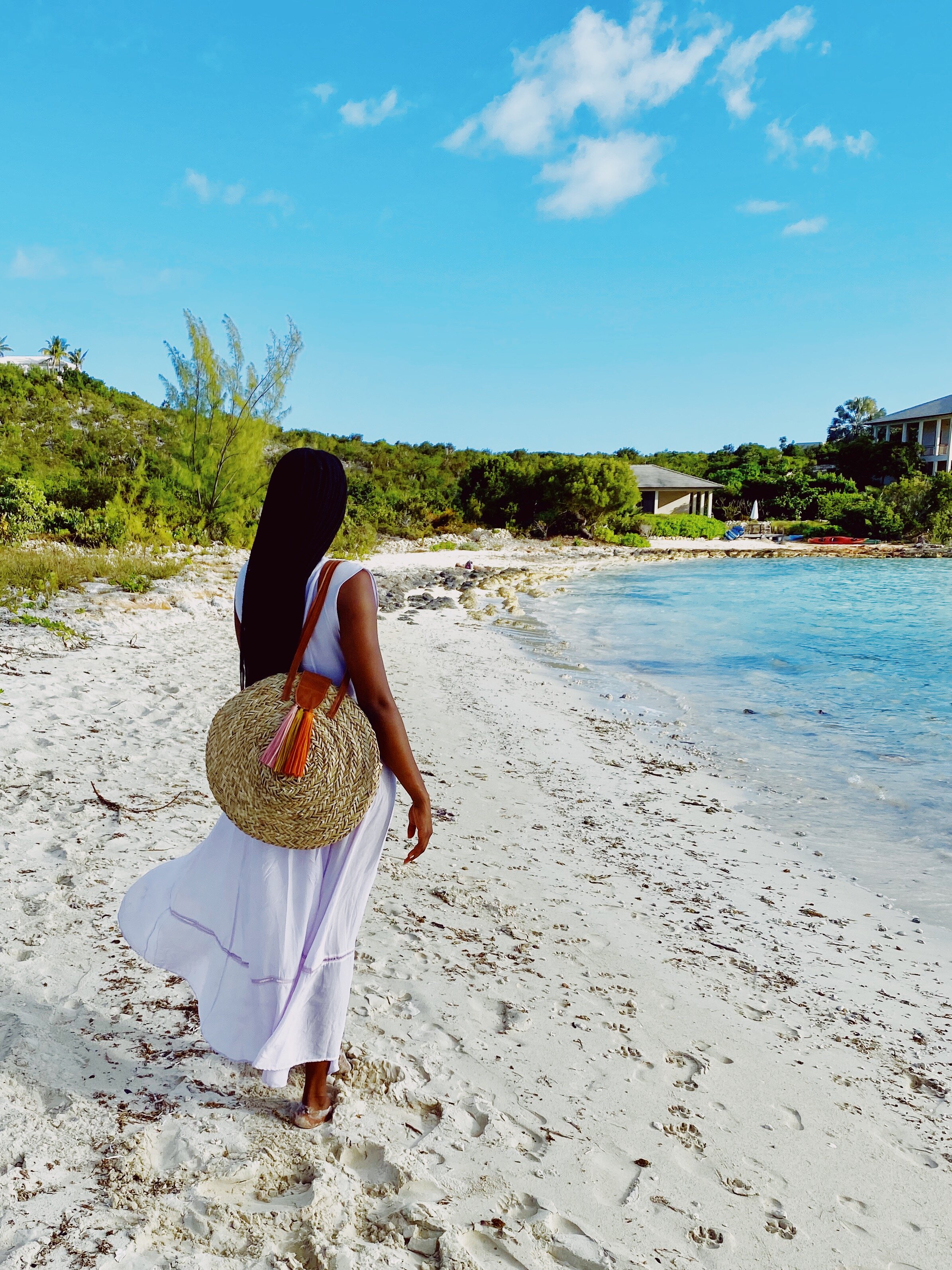 Traveling with the perfect bag from Anya & Nicki.