I thought that I'd been to Cabo before, but this was actually my first trip. I'd been to Puerta Vallarta, which is close, but definitely a different vibe. Since I'm mostly east coast based, I'm late to the game with some of the incredible cities in Mexico that are below the west coast. Cabo has so much to offer and contrary to what you may have seen on someones spring break years ago, Los Cabos (because there are two) is not just clubs and parties. You can certainly find places to party, don't get me wrong, but with enough research, planning, and this blog post of course, you can find so much more to do.
Typically, I would say this is a perfect week-long trip if you're coming from the East Coast like me, but if you're coming from somewhere in California or nearby, a weekend trip will do the trick. When traveling, we took Uber most of the time which was cheaper than the local taxi services and helpful if you don't speak Spanish.
Where to Stay:
I love off-the-beaten-path resorts and look for smaller, more unique accommodations, but there are tons of options in the Los Cabos area if you are looking for a larger-scale, branded resort property.
Acre – This is where I stayed & although it's a little off the beaten path, it was worth it! This property has a lot of unique activities to offer: there is an animal sanctuary; a dog sanctuary where they house and rehome stray dogs; and an art, movement, culture and community academy where you can do yoga, pilates, meditate and so much more. Pieces of the property and the amazing fish tacos are shown above. Even if you don't stay in the treehouses, you can come for lunch or dinner to enjoy the food plus good vibes. I've also shared a full tour here for you!
Hacienda Beach Club & Residence – This hotel seems like a great location right on the beach with amazing views and easy access to all Cabo has to offer, including day trips, shopping and so much more.
Welks Resort – This luxury hotel sits on a 7 – acre property up in the cliffs of Cabo. Semi-Private beaches, outdoor bars, multiple infinity pools, & a fitness center, what more does a girl need?

Nobu Cabo – I have been seeing and hearing so much about Nobu Cabo lately it has me wanting to go back just to check out this hotel. The rooms look beautiful, the spa looks like a place I could spend a few days in, & don't even get me started on the restaurants.
Typically, I love to find fun and unique Airbnbs when traveling, but this time, I was really interested in seeing what it was like to stay in a Treehouse. Acre Baja did not disappoint and was an amazing experience. Don't you guys worry, I made sure to do a little research & find some amazing Airbnb options.
Villa del Toro Rojo – Not only is this villa equipped with a private pool overlooking the ocean, but it has the option of a Concierge that can arrange basically anything you can think of, including a private chef!
Authentic Mexican Villa – The vibrant colors of this villa, the pool, & jacuzzi are all what I imagine when I think of Mexico. I love the privacy this offers and can see myself poolside for days here.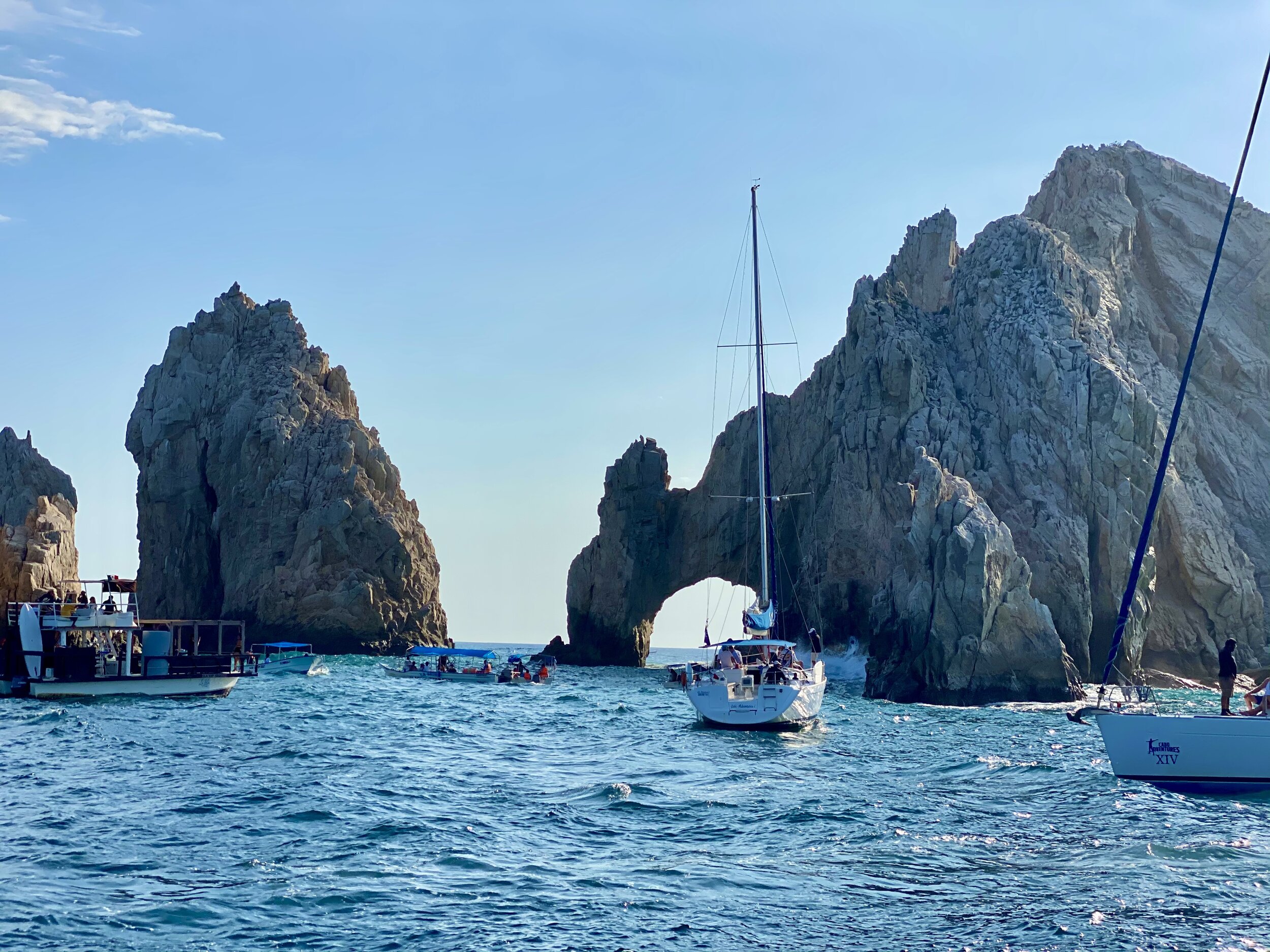 What to do:
There is no shortage of things to do in Cabo, whether you want to spend the day by the beach, go on a boat cruise, or zip line, it has it all. You can be as adventurous or as relaxed as you want. I made sure to give you options for every side of the spectrum.
Lands End – If you have never been to Cabo, this is def a must. There are a number of boat cruises you can take (if you can get the glass bottom boat I suggest it), the one linked is just one of many to pick from. The boat ride is amazing and of course you need to get the iconic Lands End photo!
Lovers Beach –This is another must! I was able to go out there on this trip and the beach is a beautiful, perfect place to just relax for a day. The easiest way to get there is a water taxi from the marina, or if you are staying at a hotel, ask if they have any tours to take you. We took an uber to the marina thinking you could uber straight to the beach, and we were able to get a ticket for a boat to bring us to the beach and back for about $20 USD for two people. It's worth it to go and stay a few hours, and if you can, bring your own snacks because they'll cost more to purchase on the beach and there are no shops or anything around the beach itself.
Snorkeling/Whale Watching– Most of the boat cruises I have been on have had snorkeling as an option, and if you go in the right season, whale watching is out of this world. We did a sunset cruise with unlimited beverage and dinner which was really nice.
Los Cabos Arch and Bay Kayak Adventure – If you are feeling a little more adventurous, taking a Kayak to see some of the local landmarks is a fun thing to do. You can even get close enough to see the "Window to the Pacific"
Yoga & Spa – Almost every hotel mentioned above has some sort of wellness spa package to pick from! Yoga on the beach, massages, the whole thing– it's all amazing.
Where to Eat:
Acre's Bar & Restaurant – Acre has two main dining locations along with a couple of options for private dining experiences. One of the things I loved most of the dining at Acre was how they were so willing to accommodate dietary needs with just a little heads up, and we all know I need that when traveling!
The Office – I was able to make it here this trip and while it's touristy and fairly expensive for what you get, it was a fun experience. It was right on the water with a fun atmosphere and good drinks. Next time you're in Cabo, definitely add this to your list of places to eat. It's not on the menu, but if you're in the mood to eat and try it all, share a tasting platter (I showed them a pic via Yelp and they were able to make it for us). Just ask for an assortment (tacos, rice and beans, the works). If you're going to come for dinner try to make a reservation to avoid a wait and be sure to get the freshly handmade tacos!
Nobu – If you stay at this hotel, it's definitely got to be on your list. If you have never been to a Nobu before and find yourself anywhere near this, I highly suggest you try it. I can only imagine how fresh and amazing the food is here. I'm a lover of Nobu in the States and if you're craving fresh fish, you can't go wrong.
Flora Farms – As the first organic restaurant in Cabo paving the way for so many more farm-to-table restaurants, this place is just what I look for when I travel. With their menu constantly changing from season to season, they make sure to keep a few classics around.
Cabo is more than meets the eye and more than just a spring break location. If you can get out of the city area there's so much to explore from ziplining to waterfalls to organic restaurants and treehouses.